The Internet is a wonderful tool. It also brings people from all over the world much closer together. One day last year, I received an Email from a gentleman in England with a request. He wanted this image to paint from.
Mr. John Hodges is a brilliant artist. He Email-ed me many scans
of his work, and they are just wonderful. What makes his projects even more interesting is that after he creates a painting, he has the painting signed by the musicians themselves.
John gave Robert one of his works a couple of years ago, and it is proudly hanging in Robert's home. John is a superb guy, and he deserves all of the recognition he gets.
Needless to say, there was no problem whatsoever to Email John the scan. I rarely turn down people with their requests. As long as the photos are not used for profit. After all, there are so many people just take the photos without even asking.
With everything that happened late last year, I did not give this any more thought. And then one day there was an Email:-), what a wonderful surprise. John finished the painting, and met with Robert at Bristol University. (BTW John said the show was fantastic). Of course I was so excited that one of my images went through such great experiences. It is one degree of separation:-). You just have to love the power of the Internet.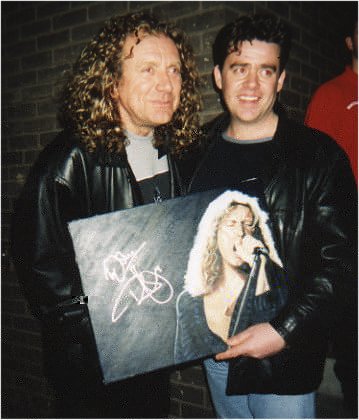 Mr. Robert Plant & Mr. John Hodges.
---

Copyright © 2002-2005 Rainn*)
All rights reserved.